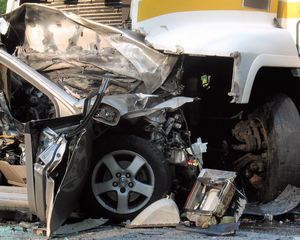 Recently several school bus accidents have been in the news. From Glendale, Arizona and Missouri City, Texas to our own Novinger, Missouri, school bus accidents continue to happen on our roads. The Joplin Missouri truck accident lawyers share these particular accidents to show how speeding causes truck accidents. All three of these particular accidents were caused by driver error on the part the other vehicles involved.
In Glendale, Arizona a dump truck rear ended a school bus stopped to pick up children. In Missouri City, Texas an SUV hit the back of the school bus while both were traveling in the same direction on the highway. The SUV was traveling much faster than the school bus and both ended up on either side of the highway. And in Novinger, a school bus stopped for construction was rear-ended by a van traveling at about 60 mph.
Bus and truck accidents can occur because of the size of the vehicles. In particular, the larger the vehicle the slower it appears to be traveling. This leads to driver judgment errors and is a major factor in the type of truck accidents involving a car pulling out in front of a truck or when a vehicle tries to beat a train through a crossing.
But the three accidents referenced above occurred because the drivers were driving much faster than surrounding traffic. They were traveling too fast for traffic conditions.
Driving Too Fast For Conditions
Driving too fast for conditions is defined as traveling at a speed that is greater than a reasonable speed that allows you to drive safely. This means you cannot safely maneuver around or react quickly enough to avoid a hazard. It is careless and even reckless to drive this way. This is true not only in conditions such as fog, snow, ice or wet roads, but also for construction zones, traffic congestion, and when driving faster than most of the rest of traffic. Even if the speed limit is 45 mph and the roads are dry, if most of the traffic is traveling at 30 mph and you are driving 45 mph, you are driving too fast for conditions.
Missouri State Highway Patrol reports traveling too fast for conditions is a common factor in most accidents. The most common factor is driver inattention. And driving too fast for conditions, while not paying close attention to driving safely, is a recipe for a fatal accident. The results of a Federal Motor Carrier Safety Administration (FMCSA) Large Truck Crash Causation Study showed that in 58.8 percent of fatal accidents involving large trucks the actions of the other vehicle were the critical event that caused the truck accident.

Slow Down, Be Patient and Drive Safely in Missouri
Be aware that your speed is a large factor in reaction times. The faster you are driving the less time you have to react to and avoid a possible accident. The SUV school bus accident occurred because the SUV driver was speeding and collided with the school bus. When you are driving faster than traffic and changing lanes to maintain your speed, this can happen to you.
Joplin Missouri truck accident lawyers work with people injured in truck accidents. If you were involved in a truck accident that involved careless or reckless driving and need legal advice, call 1-888-777-AUTO (2886).
Attorney meetings by appointment only