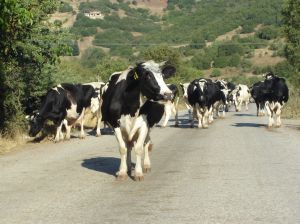 Joplin MO semi-truck accident lawyers heard of a multi car accident involving livestock, which occurred Saturday, August 10 on Interstate 64 at Rt. 37. A semi-truck driven by Larry Joe Nunnaley of Joplin, Missouri overturned, allowing its cargo--69 cows to escape--some of whom were then running loose on the interstate.
Although no specifics were given in the article in The Southern, one can only imagine the panic of the animals to find themselves on an interstate, and the confusion of oncoming motorists. In fact, the cattle caused two other accidents. One driver who struck a cow was injured and taken to a local hospital.
The Illinois State Police report that Nunnaley attempted to exit I 64 moving at too high of a speed, causing the trailer to overturn, the cattle to escape, and totaling the trailer itself. Nunnaley himself was not injured, but he received a ticket for improper lane usage.
Missouri semi-truck accidents caused by excessive speed are far from uncommon.Truckers are frequently tired, and under pressure by their employers to meet deadlines and deliver their cargo in a timely fashion. Speed is frequently listed as either the main or a contributing cause in semi-truck and tractor trailer accidents. This dangerous habit (which of course is not limited to truckers) puts everyone at risk on Missouri's highways.
According to Missouri Department of Transportation statistics for 2009, Missouri averages over 8,400 tractor trailer accidents every year. One out of every 50 semi-truck accidents involving a loaded trailer hauling a shipment resulted in a fatality.
In 2006, the American Trucking Association attempted to deal with the dangers of speeding semis, understanding that they frequently weigh up to 40 times more than a passenger vehicle. They petitioned the National Highway Traffic Safety Administration (NHTSA) to place a 68 mph nationwide speed limit on big rigs. They also asked the Federal Motor Carrier Safety Administration (FMCSA) to prohibit trucking companies and truck drivers from increasing the top speed set on speed limiting devices (aka governors) past 68 mph.
ATA President and CEO Bill Graves said at that time, "For the sake of safety, there is a need to slow down all traffic. The trucking industry is trying to do its part with this initiative. No vehicle should be capable of operating at excessive speeds on our nation's highways."
Click here to read The Role of Speed Governors in Truck Safety, a report commissioned by the American Transportation Research Institute.
However, despite all attempts to slow down speeding semi-trucks and limit the amount of hours truckers can be behind the wheel, deadly accidents continue to occur. If you have been injured in a Joplin Missouri semi-truck accident, you should be aware that your accident claim will be quite different than one involving two passenger automobiles. Your best bet is to have a Joplin semi-truck accident lawyer take a good look at your case, before you give any recorded statements, sign any paperwork, or accept any settlement offers.
Call us today for a no-cost initial attorney consultation at our Joplin MO office. If you are injured and cannot come to us--we can arrange to come to you. Call 1-888-777-Auto ( 2886).
Attorney meetings by appointment only