Many Neosho Missouri car and motorcycle accidents are caused when motorists fail to yield right of way when they should. This is particularly problematic in the case of crashes between cars and motorcycles. In more than half of all crashes involving motorcycles and automobiles, the car driver simply didn't see the motorcycle until it was too late to avoid the crash.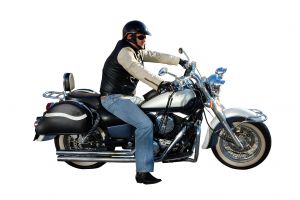 That might have been the case in an accident which sent a Joplin motorcyclist to the hospital on Oct. 21st. The accident took place on Business U.S. 71, six miles north of Neosho MO.
According to the Missouri Highway Patrol, a southbound 1993 GMC Trailmaster driven by Stefani R. Reynolds, 26, made a left turn into the path of a northbound 2007 Harley-Davidson driven by Raymond A. Rich, 54. Apparently the truck didn't leave Rich enough time to stop, resulting in Rich's motorcycle broadsiding the truck. Rich was transported by ambulance to Joplin's Freeman West Hospital with serious injuries, and his Harley was totaled.
Was this a case of failure to yield right of way, or a truck driver who simply did not see the motorcycle?
Our Joplin motorcycle accident clients frequently ask us how it is possible that a car or truck "didn't see them until it was too late." In fact, motorists become used to looking for four-wheeled vehicles, but no matter how many motorcycles are on the roads, for some reason they don't expect to see two-wheeled vehicles.
Added to that, it is frequently difficult for a car driver to accurately judge how far away a motorcycle is or at what speed it is approaching. Many motorcycle crashes occur when another driver either misjudges the motorcyclist's speed or distance, or fails to see the motorcycle at all--and makes a left hand turn right into the motorcycle's path. Although motorcycles can stop much more quickly than passenger vehicles or trucks, sometimes they simply cannot react fast enough.
Joplin and Neosho motorists are advised to always watch for motorcycles when passing or turning, and remember that oncoming traffic has the right-of-way.
If you have been in a Joplin or Neosho motorcycle accident because the other driver did not yield the right-of-way, you may have a claim against the driver for the following types of damages:
• Medical expenses including doctor bills, hospital bills, prescription medications, devices, tests, physical therapy, etc.
• Lost income/loss of future income
• Pain and suffering (can include physical, mental or emotional)
• Possible other damages as well
Neosho motorcycle accident lawyers advise protecting your rights after an accident. Talk to a lawyer before you sign any papers or accept any settlement from the other party's insurance company. The circumstances of each accident will make every case different and unique. For more information call the injury law firm of Aaron Sachs & Associates, P.C. today.
Attorney meetings by appointment only