A shocking crash between a tractor trailer and a tour bus highlights the importance of defensive driving, as we share our nation's highways with massive 80,000 pound trucks on a daily basis. As Neosho, Missouri truck accident lawyers, we know all too well that these huge rigs can be dangerous to other vehicles by virtue of their sheer size and weight. Add in a truck driver who is fatigued or distracted, and you have a disaster waiting to happen. And in the case of the July 22 accident on the NY State thruway, the disaster did happen.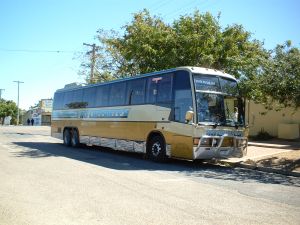 According to the Associated Press, the trucker should have had plenty of time to avoid crashing into the back of a slow moving tour bus, but he failed to brake. He rear ended the bus, causing both vehicles to burst into flames. The truck driver, Timothy Hume, 59, of Michigan was killed in the collision, and as many as fifty passengers on the tour bus were injured.
The Farr's Coach Lines bus had pulled off the thruway to deal with a mechanical problem. It was slowly attempting to merge back onto the road when the accident occurred.
After a three month investigation, the State Police have determined many factors involved in this tragic incident, but some remain a mystery. Apparently, the tour bus did have its emergency flashers on as it struggled to get back up to highway speed, but was likely going no more than 25 miles an hour at the moment of the crash.
Since the driver of the truck died in the crash, State Police investigators can only speculate as to why he failed to notice the slow moving bus or brake in time to avoid the crash. Reasons mentioned include the possibility that Hume may have fallen asleep at the wheel or been distracted. Investigators found absolutely no evidence of pre-impact braking.
As part of the investigation, eye witnesses to the accident were questioned. One, a trucker as well, said he moved into the passing lane when he saw the bus slowly pulling out a quarter of a mile ahead. The witness reported that Hume passed him in the driving lane and "continued on and appeared to not see the bus."
Sometimes there is enough evidence in a semi-truck's data recorder to determine the exact sequence of events and causes of a crash. But in this case, it is entirely likely the cause will never be known.
According to the University of Michigan's Center for National Truck and Bus Statistics, around 5,212 trucks are involved in fatal traffic accidents each year. An injury claim involving a semi-truck or tractor trailer can be much more lengthy and involved than one involving two passenger cars. A detailed investigation must be performed, and there may be several defendants involved. The truck driver, the trucking company, and even the truck manufacturer may share liability for an accident.
In an accident like the one described above, an experienced truck accident lawyer should be consulted as soon as possible by anyone who was injured.
If you have been involved in a Missouri semi-truck accident and need legal assistance to receive a fair settlement, please call or email us. The Neosho MO truck accident lawyers at Aaron Sachs & Associates, P.C. offer a no-cost, no obligation initial consultation. Don't try and go up against a big trucking company without legal representation--the stakes are too high. Come talk to us today and find out if we can help you.
Attorney meetings by appointment only