As Joplin Missouri car accident lawyers, we have repeatedly seen the injuries and devastation to people's lives that chain reaction accidents can cause. In the news recently: three people were injured outside of the tiny village of Halltown MO, in what could be considered a four-vehicle chain reaction accident.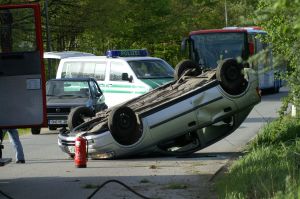 Generally, the term chain reaction accident refers to several cars that pile up behind the original accident, and these crashes can have been known to involve up to twenty or more vehicles. Icy roads or other hazardous conditions are one of the main causes. However, this was a very different kind of chain reaction crash.
The terrifying accident occurred Monday Nov 14th, a half-mile west of Halltown in Lawrence County. The first vehicle, heading westbound on I-44, ran into the median. It rolled over onto its roof, then returned onto the road, and was sliding down the highway when it was struck by the second vehicle, a pickup truck driven by Jeremy L. Hopkins of Cowden, Ill.
The force of this collision flung the still overturned car against a bridge, where it was struck by yet another westbound vehicle driven by Amy S. Rhoades of Herrik, Ill. As if that wasn't bad enough, this overturned vehicle (with three people trapped inside it) struck the bridge a second time, finally colliding with a tractor-trailer driven by Larisa Morosanu of Chicago.
It is both fortunate and quite amazing that the occupants of the first vehicle survived this devastating chain of events. According to the Highway Patrol's report, the driver of one of the vehicles, Petar G. Kuzmanov, of Willard, and his passengers, Hristo K. Kristov, and Laurne R. Weiner, both of Springfield, were taken by medical helicopter and ambulance to Springfield's St. John's Hospital.

Chain Reaction Accident Claims Can be Complicated
From the news report, it sounds like no one but the three occupants of the first vehicle were injured in this accident. However, depending on the circumstances, chain reaction accidents are known to leave a long train of personal injury claims in their wake. Determining the exact sequence of events is important for the victims of the accident to receive fair compensation.
Obviously, an injury claim resulting from a car accident with multiple vehicles can be much more complicated than the usual two car crash--if only because there can be many more victims and defendants, each with their own insurance company and its own lawyers in the mix.
For this reason, Joplin car accident lawyers advise consulting with a lawyer right away if you have been injured in a chain reaction accident--certainly before signing any insurance paperwork or accepting the first offer that comes your way from an insurance company. Along with signing to accept a settlement offer, you may be signing away your rights to pursue further compensation if your injuries turn out to be more serious, longer lasting and more costly than you originally realized.
The Joplin car accident law firm of Aaron Sachs & Associates, P.C. offers a no-cost initial consultation to assess your case. Of course, not all accident claims require the services of a lawyer, or could be better facilitated by hiring a lawyer. Call us today to find out if we can help you with your accident claim.
Attorney meetings by appointment only