Train accidents can be a shock. For the most part, they are relatively rare, but when they do occur they are generally catastrophic, causing significant property damage and quite often death. Most train accidents are the result of auto drivers or pedestrians entering a crossing or the tracks after ignoring warning signs or devices, failing to yield to the train. Whether people intentionally ignore a crossing gate and think they can beat the train or whether they simply did not hear an approaching train, the results are the same. A recent train accident near Bois D'Arc, Missouri is an example of what can happen in a situation where someone does not yield to an oncoming train.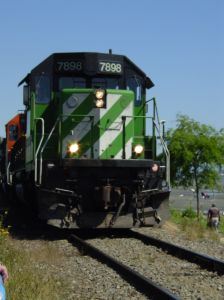 Bois D'Arc Train Accident
A woman died in a train accident south of Ash Grove on the morning of November 16, 2011. Traveling southbound on Farm Road 47, about 1 mile west of Bois D'Arc city limits, the woman was driving over the tracks when her car was hit by a passing train. According to Missouri State Highway Patrol, she failed to yield at the crossing. She was 68 and lived in the area. The crossing at this intersection has a railroad crossing sign but no lights, bells or crossing arm.
It is also important to note that this is the first accident at this crossing, going back in the records to 2006, the oldest year available in the Federal Railroad Administration's (FRA) data base.

Railroad Crossings in Greene County Missouri
There are 228,000 railroad crossings on private and public roads in the United Sates. The following information is derived from the FRA data base about public crossings in Greene County.



127 railroad crossings in Greene County Missouri


15 total rail crossing accidents between 2006 and mid 2010


2 people died and 8 were injured


8 of the accidents involved an automobile hitting a train


5 accidents involved the train hitting a car or truck, representing 1 of the fatalities


2 train accidents involved pedestrians, representing the second fatality


8 of the train accidents were in Springfield, Missouri


1 crossing had more than one train accident (Springfield on the Chestnut Expressway)



Both crossings with fatal accidents had gates and they were operational at the time
According to the FRA, approximately 21 trains pass through the crossing at Farm Road 47 each day. They travel at a maximum speed of 40 miles per hour.