Recently released statistics, from the National Safety Council (NSC), estimate the number of traffic accidents for the upcoming Memorial Day holiday weekend. The holiday weekend typically begins at 6 p.m. on Friday, May 27, and concludes at 11:59 p.m. on Monday, May 30. The (NSC) predicts that more than 400 traffic deaths, and roughly 39,400 injuries will happen over this upcoming summer kick-off weekend.
Motorists will be at increased risk of car accidents in Joplin, Neosho and elsewhere in Missouri.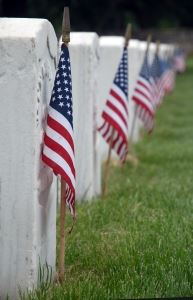 Our Joplin car accident attorneys ask that everyone practice safe and alert driving habits during this upcoming holiday weekend. We recognize the statistics from the last six years and understand that this holiday weekend averages 12 percent more traffic fatalities than any non-holiday period. The increase in travel may be a large contributor to this increase, so those venturing out this holiday weekend are encouraged to be cautious behind the wheel.
The NSC believes that more than 300 people may survive this Memorial Day weekend because of seat belt use. They also believe another 103 lives could be saved if everyone wore their seat belt.
"Even when you drive carefully, you can't always prevent being in a crash," said MoDOT Director of Operations Don Hillis. "But you can always wear your seatbelt and cut your risk of dying in a serious crash in half."
The National Highway Traffic Safety Administration will be running its "Click It or Ticket" campaign for the entire holiday weekend and well into June. "Click It or Ticket" has been proven to be the most successful seat belt enforcement campaign as it has contributed to the highest national seat belt usage rate -- nearly 90 percent. Law enforcement agencies will be enacting their zero-tolerance enforcement of seat belt laws nationwide throughout the campaign.
The Missouri Department of Transportation (MoDOT) offers driver these tips to help keep them safe on our roadways through this Memorial Day holiday weekend:
-Be sure to always wear your seat belt. They save lives.
-Do not speed. Abide by all posted speed limit signs and adjust to weather conditions.
-Do not drink and drive. Any and all types of impairment is unacceptable behind the wheel.
-Plan your trip before you set out. This will help to eliminate confusion while driving and navigating to your destination.
-Make sure you're well rested before your trip. Alternate drivers if you feel fatigued.
-Pay attention behind the wheel. Stay alert and place all your attention on the road.
-Remember to be patient and courteous. Driving when you're relaxed and calm will help to avoid reckless moves.
"We urge motorists to be patient and careful this (Memorial Day holiday) weekend and all summer." Hillis said. "We know there will be some inconvenience and delays, but the work we do this summer will mean years of smoother, safer roads."
If you or a loved one experienced a car accident in Pierce City, Wheaton, Noel, Diamond or the surrounding areas over the Memorial Day holiday weekend, call 417-627-0066 today for a confidential consultation to discuss your rights. Attorney meetings by appointment only.
Attorney meetings by appointment only