The Missouri State Highway Patrol has launched a new safety campaign in Cape Girardeau and across Missouri aimed at curbing distracted driving. The campaign will provide stickers with the campaign logo for all local Patrol vehicles. By targeting texting while driving, the Missouri campaign aims to reduce the risks of car accidents in Cape Girardeau, Sikeston, Kennett, Popular Bluff and elsewhere in Southeast Missouri. Cape Girardeau attorney, Aaron Sachs is hopeful that this campaign will raise awareness to a growing safety issue - texting while driving.
"Inattention is a leading cause of traffic crashes," said Colonel Replogle. "If you're focused on sending a text message, then you aren't paying attention to your driving. Cell phone usage -- particularly texting while driving can lead to tragic consequences. These consequences are easily preventable if drivers would simply put down their phones and focus on the road."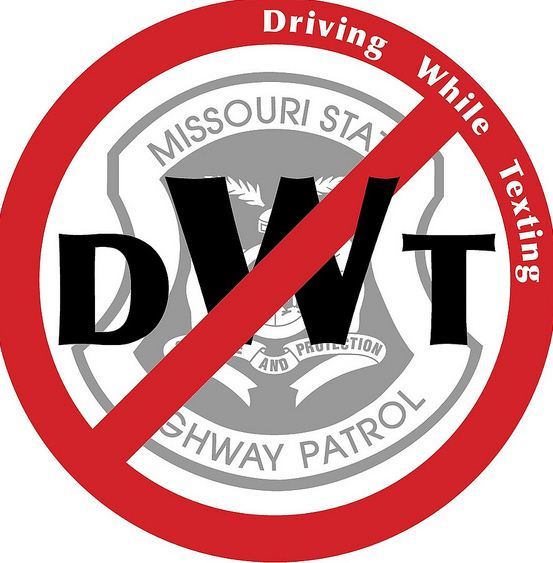 Our Ste. Genevieve personal injury lawyers urge residents to join the fight against distracted driving, which can increase your risk for a local car accident. As technology continues to advance, in-car distractions increase as well. It is up to the driver of each vehicle to take responsibility as Missouri currently has no laws banning texting while driving if you're over the age of 21.
The campaign shines light on Missouri's current anti-texting law, effective Aug. 28, 2009, that prohibits drivers under the age of 21 from texting while operating a motor vehicle, according to Col. Replogle. Others point out that common sense and voluntary compliance will always be more valuable.
"It's not like we have roadblocks to check on people that are texting," said Mike Right, a spokesman for AAA Missouri. "The benefit of having it in the statute is voluntary compliance, sort of like every other law."
Missouri is one of 38 states in the country to create anti-texting legislation but one of a dwindling few that has not more aggressively applied the law to all drivers. The debate continues in the legislature. While our younger drivers have the highest proportion of distracted driving related accidents, officials ask that all drivers put down their phone while driving.
Nearly 5,500 motorists were killed and an additional 448,000 suffered injuries in the United States in 2009 from motor vehicle accidents that reportedly were related to distracted driving, according to Distraction.gov.
The Missouri State Highway Patrol reports that the state experienced nearly 2,000 traffic accidents that involved cell phone usage by a driver in 2009. The first half of 2010 reportedly witnessed nearly 800 traffic crashes involving cell phone using drivers, resulting in nearly 10 fatalities and more than 200 injuries. All forms of distracted driving caused more than 17,500 accidents in the same time frame.
Here are some safe driving tips, provided by www.drivingtips.org, that can help to reduce your distracted driving risks:
-Keep safety as a first priority while behind the wheel. Your safety should be more important than checking your text messages, answering your phone or messing with the radio. It may take constant self-reminders, but it's worth it. Concentrate on arriving at your destination safely.
-Pull over to get directions. Whether you're using a paper map or a digital GPS system, it is important to pull over and stop your vehicle before looking at either as they both require you to take your focus off the road.
-Put you cell phone and other hand-held devices out of reach, either in the glove box or in the back seat. If you keep them away, you may be less likely to become distracted with them.
-Make sure you're entire focus can be placed on driving. It's just as dangerous to jump behind the wheel if you're tired, aggravated or upset. Distracted driving involves many factors. Be sure your mental state of mind is clear and focus before hitting the road.
If you or a loved one has been involved in a car accident with a distracted driver in Cape Girardeau, Sikeston, Kennett, Popular Bluff or elsewhere in Southeast Missouri, contact the Southeast Missouri Personal Injury Lawyers at Aaron Sachs & Associates PC for a free initial consultation to discuss your rights. Call (573) 334-7959. Attorney meetings by appointment only.
Attorney meetings by appointment only