Missouri truck accident lawyers are following a deadly freightliner accident that perfectly illustrates the dangers of sharing the roads with these enormous vehicles. On Thursday, July 21, 2011, two freightliners collided, leaving an Illinois trucker dead. Arthur Vann Jr., 57, was pronounced dead at the scene of the accident. This took place outside of Lenapah Oklahoma.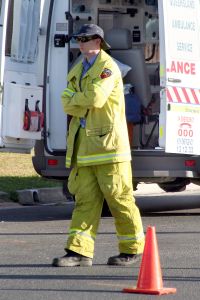 Highway patrol officers explained that Vann was heading south on U.S. 169 when he struck another freightliner from behind. The other truck was driven by Robert H. Weller, 62, of Muskogee.
Weller's truck was stopped behind another vehicle due to roadwork on the highway. When Weller's vehicle was hit from behind, the force caused him to smash into the Nissan in front of him. The driver of the Nissan, Jared Daniel Ward, 40, of Cherryville, Kan. was not injured.
When the two freightliners collided, Van's truck burst into flame, causing Weller's truck to do so as well. Apparently, both the truck driven by Weller, as well as the Nissan that he hit, were shoved about 70 feet by the force of the impact, and Ward's Nissan went another hundred feet after Weller's truck stopped moving.
Vann was pinned in his truck for three hours before his body was removed by Lenapah Volunteer Fire Department personnel using the Jaws of Life (a gigantic tool used to extricate people from mangled trucks or building collapses). Vann's body was transported to the Medical Examiner's Office in Tulsa, according to the highway patrol's report.
Weller was taken to Jane Phillips Medical Center in Bartlesville, and treated for neck and back injuries. He was released the same day, so we hope that indicates his injuries were not serious.
Missouri Truck Accident attorneys know that highway construction is sometimes a cause of truck accidents on Missouri's highways. If vehicles are stopped or have to slow down suddenly, many times a big semi truck or tractor trailer simply cannot brake fast enough to stop before it slams into the vehicles in front of it. Usually the driver of the big rig is not injured, but the occupants in the passenger vehicle are. In this particular accident, because Vann hit another truck of the same size and weight as his own, the damage was so severe that it killed him.
We are amazed that the driver of the Nissan was not injured. Rear end collisions such as the one described here are one of the leading causes of whiplash. If you are ever in such a situation, even though you feel fine and can walk away from the accident, it is advisable to see a doctor and make sure you don't have any injuries. It is a strange fact that back and neck injuries such as whiplash sometimes don't show up for hours or even days after an accident.
If you discover you have been injured, have the proper medical care immediately. After that, you might want to consider consulting with a Missouri truck accident law firm.
Attorney meetings by appointment only