Our Springfield Missouri Accident Lawyers are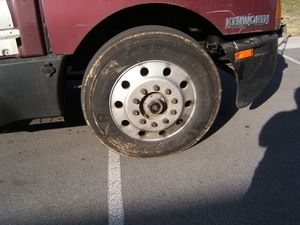 concerned anytime someone dies on our Missouri roads or highways and offer condolences to everyone who ever experiences this type of tragic event. A fatal car crash is devastating for all involved. A man from Exeter, Missouri has died from such a traffic accident.
Early Friday morning, shortly before 1 am on July 15, there was a truck accident on Missouri 37 just 3 miles south of Monett; a community which straddles Barry and Lawrence Counties. The man was driving southbound in a Ford pickup truck and crossed over the center line. The resulting traffic accident was a head-on collision with a semi tractor-trailer. The driver of the pickup truck, the man from Exeter, died from his injuries. The driver of the semi was unharmed.
According to Missouri State Highway Patrol (MSHP) this is the 45th fatality for Troop D this year. Troop D covers Springfield and the surrounding southwest corner of Missouri. At this time it is unknown why the pickup truck driver crossed the center line.
This truck accident could have occurred for a number of reasons. Any time a car or truck crosses the center line the potential for a fatal accident is very high.
Common Reasons for Crossing The Center Line:
Passing a slower moving vehicle
Falling asleep behind the wheel
Driving while impaired by alcohol or drugs
Distracted by texting or cell phone use
Swerving while distracted by a dropped item or other type incident in the vehicle
Faulty vehicle or mechanical damage