Springfield Bus Accident Lawyers have noticed a rash of bus accidents taking place nationwide, from the terrifying to the simply bizarre. Here are some of the latest headlines, all from the past week in June: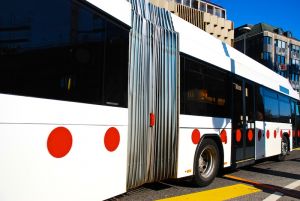 Houston, TX-- "A Metro bus crash near the Medical District left the driver dead and the bus split in half." A bystander says, "Major accidents are awful; I've seen my share of them before. But this one...it is unbelievable that a bus can be split in half like that."
Fort Lauderdale, FLA--Driver flees after hitting BSO inmate transport bus... This hit-and-run bus crash on June 22 involved a prisoner transport bus. None of the 45 prisoners on the bus were injured and the bus continued on its route to the jail after the crash, the Sheriff's Office said. (We have never heard of a hit-and-run bus accident before, but it proves there is a first time for everything.)
Salt Lake City, UT--Investigation continues after teen falls out of moving school bus...The bus was traveling eastbound when officials say the 17 year old special needs student got out of his lap belt, walked to the rear of the bus, opened the emergency exit door and fell out onto the road.
But the main bus accident in the news that has captured our interest is this Arkansas bus accident case:
Little Rock, ARK--Arkansas Supreme Court affirms insurance ruling in fatal Craighead County bus crash...