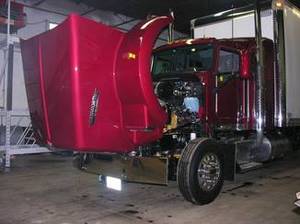 No matter where in the nation a trucking company is based, its safety record can impact truck accidents in Springfield or Columbia, Missouri. Any company that operates interstate motor carrier services can impact highway safety nationwide: many interstate trucking companies have trucks and tractor trailers traveling on the major interstate corridors of Missouri every day. And unfortunately, motor carriers (companies that transport freight or passengers using commercial trucks, buses, tractor trailers, and the like) who do not operate safely can slip through the cracks of federal regulations.
Example of Unsafe Trucking Company
Recently a trucking company based in Hanover, Maryland, Gunthers Transport, LLC, was declared an "imminent hazard to the public" and was ordered to immediately cease operations by the U.S. Department of Transportation's Federal Motor Carrier Safety Administration (FMCSA). After a thorough review of the company's operations and numerous truck inspections, the FMCSA found multiple hours of service violations and numerous vehicle maintenance violations.
Gunthers allowed its drivers to falsify hours-of-service driver logs and records, and either required or permitted drivers to exceed the 11 hour driving limit. Also, they did not require their drivers to perform pre-trip vehicle safety checks and returned unsafe trucks to service. FMCSA found that previously ordered out-of-service vehicles had been returned to service prior to repairs.
Gunthers was found to be deficient in four of the seven areas of the Safety Measurement System Behavior Analysis and Safety Improvement Categories: safe driving, fatigued driving, driver fitness, and vehicle maintenance. After one of Gunthers' truck accidents, it was determined that the driver did not have the proper medical certification.
FMCSA also found that Gunthers' fleet of 17 trucks was in such poor condition that they were "likely to break down." Because of the fleet's on-road performance (7 serious truck accidents in the past year, including four injuries and one fatality), it was determined that there was a significant risk of further serious injury and death from future truck accidents. That is why the FMCSA ordered them to cease operations immediately.
Unsafe Trucking Company Loopholes
Unfortunately, even though the federal order prohibits the company from operating as a different entity, the owner's son filed paperwork to create a new entity, Clock Transport, LLC, several weeks before the order. The new company uses the same address as Gunthers Transport, only with a smaller fleet and fewer drivers.
In addition, this same family was involved in a fatal truck accident in Maryland in 1994, after which they filed for bankruptcy and avoided paying a court-ordered settlement.
Federal officials say it is not uncommon for a trucking company with a history of safety violations to close and then reopen under a new name. They are called "chameleon truckers." Regulators and safety advocates are working to close the loopholes that allow "chameleon" trucking companies to continue to operate unsafe businesses.
It is hoped that the FMCSA will propose a rule early next year to address any trucking company that tries to evade federal safety regulations or mask federal safety violations.
If you are involved in a truck accident and suspect a "chameleon trucker" is involved, contact the Springfield Missouri truck accident lawyers and schedule a free consultation.

Attorney meetings by appointment only