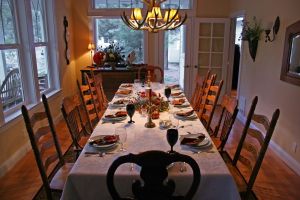 Thanksgiving is right around the corner! If your holiday plans include travel, our Columbia car accident lawyers want to remind you to make safety a priority when you're on the road. This year, the AAA Auto Club is predicting the highest volume of Thanksgiving traffic since 2007: nationwide, an estimated 46.3 million people will travel more than 50 miles from home during the holiday weekend. With so many vehicles on the road, travelers can expect to encounter congested highways, traffic jams, aggravated motorists, and - importantly - an increased risk of car accidents.
However, it's not just the higher volume of traffic that makes this weekend dangerous on our nation's roadways. Certain traditions associated with holiday celebrations can also make car accidents more likely - for example, you're more likely to encounter alcohol-impaired drivers during holiday weekends. And turkey, that famous Thanksgiving staple, contains high levels of tryptophan, which is known to make people sleepy. This chemical is so effective that it is actually a main ingredient in over the counter sleep medications. There's also another factor at work here - it's not exactly a "Thanksgiving tradition" but seems to occur regularly, and that is overeating. Combine the three - overeating, turkey and alcohol - and you have one potentially dangerous driver.
Please stay alert on the roads this weekend. The Missouri Highway Patrol will be out in full force, attempting to reduce the number of accidents and fatalities. Officers will participate in Operation C.A.R.E. (Combined Accident Reduction Effort) during the four-day weekend, and, on November 26 and November 30, they will conduct a 20-Mile Trooper operation, with troopers stationed at 20-mile intervals on Interstates 29, 44, 55 and 70 and U.S. Highways 60 and 61.
The Patrol considers the beginning of the Thanksgiving holiday to be Wednesday, November 26, at 6:00 p.m. This is because most people who need to travel long distances will be leaving after work on Wednesday. Motorists are advised that rush hour traffic will be much heavier than usual, extending far into the evening and probably into rural areas that usually don't see traffic congestion at all. The weekend is officially considered over, for the Highway Patrol's initiatives, at 11:59 p.m. on Sunday, November 30.
There are two simple, yet extremely important things you can do to help prevent Missouri auto accidents during Thanksgiving weekend: don't speed, and don't drink and drive. In addition, please remember to buckle up - and make sure all your passengers do, too. That way, if you are involved in an unavoidable accident, your chances of being injured or killed will be greatly minimized. Wearing a seat belt is the easiest, most effective way to protect yourself from accident-related injuries.
Thanksgiving is meant to be a time for appreciating blessings and celebrating with family. It is tragic when this holiday is marred by car accidents, injuries or deaths. We greatly appreciate the Highway Patrol's ongoing commitment to crash and fatality reduction throughout the year, and especially during our nation's most traveled holidays.
Here at Aaron Sachs & Associates, P.C., we wish all of you a safe, happy and healthy Thanksgiving. If you do need legal assistance after an accident, we are available to help you. Please call us, toll free, to schedule a no-cost initial consultation with one of our injury lawyers. You can reach us at (888) 287-1046, or you can contact us online.
Attorney meetings by appointment only