Seat belts save lives and reduce injury risks in Missouri and nationwide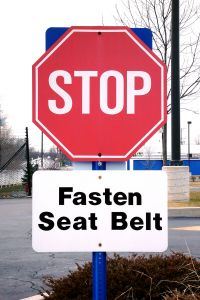 No matter how carefully you drive, the odds are that you'll be involved in a car crash at some point during your lifetime. While you can't control other people on the road, you can take one simple, basic precaution to reduce your risk of serious injury: wear your seat belt. In this post, our Springfield personal injury lawyers share ten things Missouri drivers should know about seat belt use and roadway safety.
Ten things Missouri drivers should know about seat belts:
Wearing a seat belt is the easiest, most effective step you can take to reduce your chances of being injured in a car accident.
The National Highway Traffic Safety Administration (NHTSA) reports that lap/shoulder seat belts reduce fatal injury risks by 45% and moderate-to-critical injury risks by 50%.
According to the Missouri Highway Patrol, Missouri drivers who aren't buckled up are 42 times more likely to be killed in an auto accident.
Since 1975, seat belt use has saved nearly 300,000 lives in the U.S. alone, according to the AAA Exchange.
In 2012, seat belts saved 12, 174 lives - and over 3,000 more lives could have been saved if all passenger vehicle occupants over age four had buckled up.
A NHTSA study estimates that over 1,600 additional lives could be saved annually - and 22,000 injuries prevented - if seat belt use was 90% in all 50 states.
Air bags are not a replacement for seat belts: the two devices are meant to work together. If you're not wearing a seat belt when your air bag deploys, you could be thrown into the air bag as it opens. That kind of force can cause serious, even fatal injury.
Seat belts should be worn so that the lap belt is secured across your pelvis (across the hips, below the stomach); the shoulder belt should be secured across your rib cage (away from your neck). These areas are able to withstand crash forces better than other parts of the body.
The way your seat belt fits makes a difference. When you're shopping for a vehicle, check the fit of the seat belts. In addition, you can use seat belt adjusters or extenders to help ensure the fit is right.
All passenger vehicle occupants should be buckled up. If you're carrying young passengers, make sure they are properly restrained in appropriate child safety seats. (To learn about Missouri's Child Restraint Law, click here.)
Posted By
Aaron Sachs & Associates, P. C.
Categories: