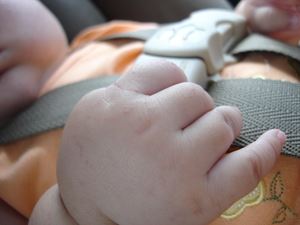 As car accident lawyers, we know that auto accidents are the leading cause of death in American children between ages one and 12. One of the most effective ways to safeguard your young passengers is to ensure they travel in appropriate child safety seats. In this post, we discuss some basic facts about car accidents involving children, and offer a few tips to help parents use child safety seats effectively.
Car accidents involving children: The statistics
• According to the Centers for Disease Control (CDC), 1,314 children age 14 and under were killed in 2009 traffic accidents, and an additional 179,000 were injured.
• A CDC study found that, within a single year, more than 618,000 children rode in vehicles at least some of the time without the protection of a child safety seat, booster seat or seat belt.
• Using an appropriate child safety seat can reduce the risk of fatal injury by 71% for infants and 54% for children between ages one and four.
• An estimated seven out of 10 children are not properly restrained in appropriate child safety seats, even though 96% of parents and caregivers believe they have installed their children's safety seats correctly.
Child safety seat installation: Common mistakes
• Failing to use the right seat, given a child's size and weight
• Failing to secure/tighten the seat's harness and/or crotch straps
• Failing to position the seat in the correct direction
• Failing to correctly install/secure the safety seat in the vehicle seat
Missouri's Child Restraint Law
• Under Missouri law, children who are under age four or who weigh less than 40 pounds must ride in a child safety seat that is designed to accommodate their size and weight.
• Children between ages four and seven who weigh at least 40 pounds must ride in a booster seat, unless they are four foot nine inches tall or weigh 80 pounds.
• Children age eight and older (or who are taller than four foot nine inches or weigh more than 80 pounds) must use either a seat belt or a booster seat.
The National Highway Traffic Safety Administration (NHTSA) provides numerous online resources for parents with respect to child safety seat installation and use. NHTSA's website also offers a convenient Child Car Seat Inspection Station Locator, which will help you find an inspection station near you.