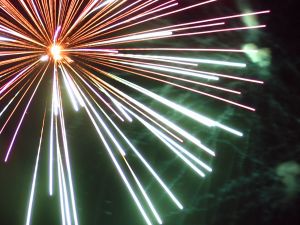 As the Fourth of July approaches, many Missourians are finalizing their celebration and travel plans for the holiday. According to the AAA, 40.8 million people will be traveling 50 miles or more to enjoy Independence Day festivities between Wednesday, July 3rd and Sunday, July 7th, with 84% of Americans traveling by car. Because of the increased roadway traffic, the National Safety Council (NSC) estimates that the U.S. will see approximately 540 car accident deaths over the holiday travel period, along with 57,800 expected crash-related injuries. Our Cape Girardeau car accident lawyers want to encourage you to take safety precautions and drive defensively if you plan to travel over the holiday.
To help prevent fatal accidents, officials from the NSC recommend that drivers adopt a proactive attitude about roadway safety. Refrain from using electronic devices while behind the wheel, always wear your seatbelt (and require all your passengers to buckle up), and arrange for sober designated driver if alcohol is a part of your holiday plans. You should also avoid driving while drowsy and stay focused on the road, especially when traffic is heavier than usual. Many serious car accidents are entirely preventable, provided drivers follow these basic steps.
Car accidents aren't the only potential safety hazard during the Fourth of July holiday. Many Americans suffer injuries caused by fireworks-related incidents at this time of year, including serious burns and eye injuries. Here are a few reminders about fireworks laws in Cape Girardeau and Jackson, which are nearly identical:
• Residents may use fireworks between June 27 and July 4. From June 27 to July 3, fireworks can be used from 10:00 a.m. to 10:00 p.m.; on the 4th, fireworks can be used between 10:00 a.m. and midnight.
• Bottle rockets and other aerial fireworks are banned by city ordinances, but residents are free to use any other fireworks that can be sold to private citizens under state law.
• Fireworks may not be used within 100 feet of a gas station or within 600 feet of a hospital, school or church.
• Residents under age 17 are prohibited from purchasing or possessing fireworks.

In general, please remember that fireworks can be extremely hazardous for both children and adults. To safeguard yourself and your loved ones against firework-related injuries, keep these basic safety tips in mind:
• Never allow young children to play with or light fireworks. Always have an adult supervise all firework-related activities (even sparklers, which can burn at about 2,000 degrees).
• Always buy professionally made and packaged fireworks. Avoid buying fireworks packaged in brown paper, as that can be a sign that the fireworks were made for a professional display.
• Never place any body part directly over a firework, especially when lighting a fuse. Back up a safe distance once the fuse is lit.
• Never attempt to re-light or move "duds" (fireworks that will not ignite).
• Don't point fireworks towards people or objects that may be flammable, and be sure to keep a source of water on hand, just in case you need to put out a fire quickly.
Taking a few simple precautions can help reduce the potential for injuries caused by auto accidents and firework use. With safety in mind, the Fourth of July can be an exciting, enjoyable holiday for people of all ages. Our attorneys wish you a happy and safe Independence Day!
Aaron Sachs & Associates, P.C. is a Missouri personal injury law firm serving accident victims in Cape Girardeau, Jackson, and the surrounding areas in Cape Girardeau County. To contact our office, please call us toll-free at 1-888-777-AUTO, or click here to submit our convenient online form.
Attorney meetings by appointment only