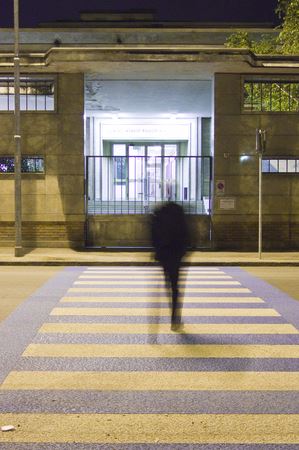 As Kansas City personal injury lawyers, we know that pedestrians are extremely susceptible to life-threatening injuries in Missouri car accidents: after all, a person is no match for a motor vehicle. Recent federal research suggests that pedestrian accidents are on the rise nationwide, and identifies a key contributing factor: pedestrian alcohol use.
According to new data from the National Highway Traffic Safety Administration (NHTSA), the number of fatal car accidents has decreased over the last 10 years, but the number of pedestrian fatalities has risen by three percent. What's more, more pedestrians who are killed in traffic crashes are proving to have a blood alcohol content (BAC) at or above the legal limit. In 2011, approximately 37% of pedestrians who suffered fatal injuries in auto accidents (about 1,500 people) had BACs of 0.08% or above.
Jonathan Adkins, spokesman for the Governors Highway Safety Association (GHSA), told USA today that anti-drunk driving campaigns could be encouraging pedestrians to walk home - rather than drive home - if they've been drinking. However, Adkins is quick to note that alcohol can have a negative impact on pedestrians' decision making and reaction time, just as it does for drivers. As a result, intoxicated pedestrians are more likely to cross the street in a dangerous place, for example, or attempt to "beat" an oncoming vehicle. "What [the data] says to us is that nationally we've done a good job of educating people about the dangers of drunk driving, but we haven't done such a good job of reminding them that other drunk behavior, including walking, can be just as dangerous," Adkins said.
In response to the new data, NHTSA is offering individual states a chance to apply for a total of $2 million in grants to fund pedestrian safety education and enforcement programs in 22 specific cities that reported the highest number of pedestrian fatalities, according to U.S. News and World Report. St. Louis is the only Missouri city that appears on the list.
Pedestrian accidents: The facts
• The Insurance Institute for Highway Safety (IIHS) reports that 4,432 pedestrians were killed and an estimated 69,000 were injured in 2011 U.S. motor vehicle accidents.
• The hours after dark appear to be the most dangerous time for pedestrians. About 70% of 2011 pedestrian deaths occurred at nighttime, and approximately 39% of pedestrian fatalities happen on weekend nights, while 27% happen on weekday nights.
• Fatal auto accidents involving pedestrians are more likely to happen in urban environments, with three out of four pedestrian deaths occurring in urban areas like Kansas City.
• Pedestrians who don't use crosswalks are more vulnerable to car accident injuries: 70% of pedestrian fatalities happen in areas away from marked intersections.
• Men are more likely suffer fatal injuries in pedestrian/vehicle collisions. More than two-thirds of pedestrians killed in these collisions are men.
Aaron Sachs & Associates, P.C. is a personal injury law firm serving auto accident victims in Jackson County, Missouri and the surrounding areas, including Kansas City, Independence, Lee's Summit, Blue Springs, Greenwood, Buckner, Grain Valley, Grandview, Oak Grove, Raytown and Sugar Creek. If you or a loved one has been injured in a crash caused by a careless or negligent driver, please contact our office to find out if we can help. Call us toll-free at 1-855-695-1426.
Attorney meetings by appointment only