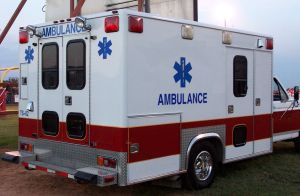 An emergency medical technician has been formally charged in connection with a fatal North Carolina crash that killed his coworker. The Charlotte Observer reports that Jonathan Cory Brown has been charged with misdemeanor death by vehicle for causing the collision, which resulted in the death of 43 year-old Belinda Gale Rivers.
Brown and Rivers both worked as EMTs for the Sandhills Ambulance Service, which is based in Cheraw, South Carolina. On the morning of the crash, they had dropped off a patient at Carolinas Medical Center in Charlotte and then turned around to return to South Carolina. According to police, Brown was driving and Rivers was in the front passenger seat when their ambulance collided with a tractor trailer at the intersection of Venus Street and U.S. 74 in Monroe. Rivers was thrown from the ambulance and pinned under the vehicle: she was pronounced dead at the scene. Brown remains hospitalized with non-life threatening injuries, and the driver of the tractor trailer was uninjured. No patients were in the ambulance.
Following an investigation of the crash, police determined that Brown caused the crash when he attempted to turn onto the highway. "Witness accounts and evidence show that the ambulance entered the intersection at Venus and 74 while the stoplight was emitting a steady red light," Monroe Police Department Chief Debra Duncan told WCNC News. He will appear in Union County Court on December 6.
The criminal charge against Brown was announced on the same day as Rivers' funeral service. Her colleagues attended the service wearing their company shirts, and several emergency vehicles reportedly lined the road between the church and the funeral home to honor Rivers' memory. In addition to her work for Sandhills, Rivers also volunteered for several local rescue services. Her family asks that memorial donations be made to two such services: the Cheraw Rescue Squad or the Chesterfield Rescue Squad. For more information, click here.