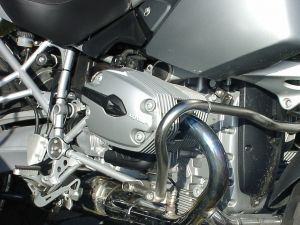 On Wednesday night, a motorcycle accident in Mexico, Missouri left a man dead and a woman in critical condition. According to local police, 48 year-old Michael Woodruff's motorcycle rear-ended a pickup truck that had slowed to make a left turn, and the impact caused the motorcycle to catch fire.
Woodruff was pronounced dead at the scene. His passenger, 41 year-old Kimberly Holmes, was airlifted to University Hospital in Columbia, where she remains in the intensive care unit. The accident remains under investigation: according to KRCG 13, witnesses reported that Woodruff's motorcycle had been traveling at a high rate of speed as it approached Mexico city limits.
Our Popular Bluff motorcycle accident attorneys know that motorcyclists are some of the most vulnerable drivers on our roadways. Many car accidents that involve a motorcycle turn deadly. Because riders are often overlooked on our roadways, passenger vehicle drivers must practice cautious and alert driving to help protect our two-wheeled drivers.
The National Transportation Safety Board (NTSB) understands the dangers that these motorists face on our roadways and for that reason has placed motorcyclists on their "most wanted" list. This list is part of a safety campaign that is aims to increase the public's awareness of, and support for, actions that can help prevent accidents and save lives on our roadways.
According to the NTSB, the number of motorcyclist fatalities has doubled from 2,116 in 1997 to 4,462 in 2009. It is estimated that 12 motorcyclists are killed on our roadways every day. Even though these two-wheeled travelers only make up 3 percent of the vehicles on U.S. roads, they account for nearly 15% of all highway fatalities. Nearly 75% of these motorcyclists were killed in broad daylight, between the hours of 4:00 a.m. and 8:00 p.m.
In an attempt to help protect motorcyclists on our roadways, motorists are urged to follow these safety tips:
• Think of a motorcycle as another passenger vehicle, and give them the same respect on our roadways.
• Always assume a motorcycle is closer than it appears. Their small size can make them look farther away than they actually are.
• Double check your blind spots for these small vehicles before switching lanes or making a turn.
• Don't follow too closely. Motorcyclists oftentimes slow down by downshifting, which does not activate their brake light.
• Turn signals on motorcycles are not self-canceling like they are on cars and passenger trucks. Look twice to make sure that a motorcyclist's signal is for real.
• Give motorcyclists the entire lane. Don't attempt to share a single lane with them.
• Wet pavement can make stopping difficult for a motorcycle. Allow more following distance when behind a motorcycle.
If you or a loved one has been involved in a motorcycle accident in Cape Girardeau, Poplar Bluff, Kennett, New Madrid, or elsewhere in southeast Missouri, contact the personal injury lawyers at Aaron Sachs & Associates for a free initial consultation to discuss your rights. Call us toll-free at 1-888-777-AUTO, or visit our website.
Attorney meetings by appointment only