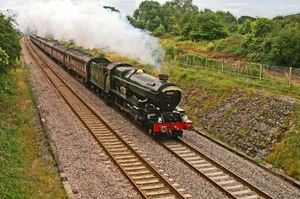 Early this morning, two teens were killed and a third was seriously injured when a train struck a Jeep Grand Cherokee at a railroad crossing in Butler County. According to the Missouri Highway Patrol, 15 year-old Victoria Swanson and 17 year-old Haley Whitmer died in the crash, while 15 year-old Kaitlyn Fowler was taken by helicopter to a Cape Girardeau hospital. The Jeep's driver was reportedly uninjured in the collision.
According to the Patrol, the vehicle was stopped on the tracks on County Road 554, about one mile east of Poplar Bluff, when it was struck by the train. That particular crossing utilizes a passive warning system: it has a crossbucks sign, but no lights or crossing arms.

KMOX in St. Louis reports that the teens were actually parked on the tracks on purpose. The group was apparently participating in a game called "Ghost Train," wherein a person will park a vehicle on train tracks and wait for "ghosts" to push it to safety, letting the windows fog up to add an extra scare to the experience. This particular crossing in southeastern Missouri is said to be "haunted" by a train that once derailed there. "It's folklore, or an urban legend," said Butler County coroner Jim Akers. "Some of the girls (in the Jeep) were obsessed with it, had done it hundreds of times and had never seen a train. Well, this was the one time when things went bad."
Whitmer was actually able to escape from the Jeep, but she ran back to help when she saw others struggling to get out of the vehicle. Whitmer was struck and killed just as she freed Fowler. Two other girls were able to escape without injury.
The accident is the second recent incident involving a train and the death of a Missouri teen. Less than two weeks ago, 14 year-old Cameron Vennard was killed in Kirkwood after being struck by an Amtrak train en route to Kansas City. On his way to meet friends, Vennard had been walking on train tracks with his headphones on when he was struck. The engineer blew the train's horn in an attempt to warn the boy, but Vennard was unable to get out of the way in time.
According to the Federal Railroad Administration, there were 265 highway-rail grade crossing fatalities in 2011. Twelve of those accidents took place in Missouri. In fact, Missouri is #5 on Operation Lifesaver's list of the top states for highway-rail grade crossing fatalities, following California, Illinois, Texas and Kansas, respectively.

A Few Safety Tips and Facts from Operation Lifesaver:
• Don't expect a train to follow a schedule: remember that freight trains don't operate within a fixed time frame, regardless of what you think you've observed. Safety advocates advise that you err on the side of caution, and always expect to see a train.
• Don't expect a train to come from one direction and not the other: sometimes, a locomotive will push freight or passenger cars instead of pulling them.
• Remember that trains can extend three feet or more beyond the rail: thus, pedestrians should stay more than three feet away from the tracks to remain safe.
• Do not walk on train tracks: the average freight train traveling 55 miles per house requires more than a mile to stop. When an engineer sees a person or vehicle ahead, it is already too late to stop in time. Also, train tracks are private property, so walking on them constitutes trespassing.
• Trains always have the right of way: at crossings, emergency vehicles, passenger vehicles, and pedestrians must yield to trains 100% of the time.
• Trains can approach quietly: be sure to stay alert when you're near tracks or crossings. Operation Lifesaver specifically advises against headphones, texting, and cell phone use.
• Only cross tracks at designated crossings for pedestrians or vehicles.
Information provided courtesy of Aaron Sachs & Associates, P.C., P.C.
Attorney meetings by appointment only