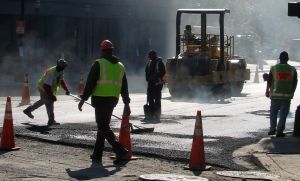 The summer of 2012 will bring many improvements to our state's roadways, as the Missouri Department of Transportation (MoDOT) implements the Safe & Sound Bridge Improvement Program: statewide, more than 100 bridges will go under construction for maintenance and improvements by the end of 2013. As always, MoDOT will continue other renovations on both major and minor roadways. Construction zones can cause slowdowns in traffic along with road and lane closures, which can be understandably frustrating to drivers. However, it is necessary for motorists to make adjustments during road construction to help prevent fatal accidents in work zones.
While roadway construction is necessary and beneficial, it requires cooperation and patience from drivers. In 2010, 87,606 car accidents happened in work zones nationwide, according to the Federal Highway Administration. In 2006, Missouri passed legislation in 2006 to increase safety and discourage reckless driving in work zones, but unfortunately, there are still many accidents in construction areas each year: between 2007 and 2011, there were 57 deaths and 3,812 injuries in Missouri work zones.
MoDOT strives to promote work zone safety by using enhanced work zone warning signs, incorporating the latest technology to monitor traffic and creating detour routes. Motorists can contribute to MoDOT's efforts by being attentive, using proper following distances, changing lanes properly and abiding to special speed limits and/or regulations. Motorists who are not compliant with Missouri laws face many severe penalties: for example, speeding or passing improperly in a work zone can carry a minimum fine of $250. In addition, drivers can be fined up to $10,000 and lose their license for a year for causing an accident that injures or kills a highway worker. Most importantly, reducing work zone accidents means more lives are saved - highway workers, drivers, and passengers alike.

MoDOT reports work zones were safer in 2011 than in 2010: work zone car accidents decreased over 32 percent in 2011, which suggests that tougher regulations and more awareness led to fewer deaths and injuries in Missouri construction areas. Although the summer of 2012 brings inevitable road and bridge closures with work zones, drivers and highway workers can create safe work zones through extra caution and cooperation.