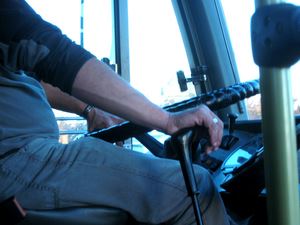 A personal injury lawsuit has been filed on behalf of three students who were on board a Kentucky tour bus when it overturned on June 6, reports the Bowling Green Daily News.
The accident happened on Kentucky Route 728 in Hart County. The chartered bus was carrying 20 adults and 34 children - mostly sixth to eighth graders, plus a few high school students - who were en route to Washington D.C. on an educational trip. However, they didn't get very far: about seven minutes after departing from Cub Run Elementary School, the bus driver failed to negotiate a curve in the roadway. The bus went off the right shoulder and flipped onto its passenger side.
Approximately two dozen passengers were transported to three nearby hospitals with various injuries, including broken bones, neck and shoulder injuries, scrapes and bruising. One person was seriously injured, reportedly suffering a collapsed lung and a suspected broken back. Several parents went to the scene upon hearing about the wreck, including Terry Day, whose wife and son were passengers. "All I seen was children crying, blood coming out of their head, people hurt," Day told WHAS 11. "It was like a scene from a movie."
The lawsuit, filed June 14, names the bus driver, 49 year-old Timothy Saum, along with the bus company, New Image Travel, and the company that organized the trip, WorldStrides International LLC. It levels several accusations against Saum:
• Prior to picking up the group, Saum had already driven the bus from Chicago to Cub Run, which is an eight hour drive. It would've taken the bus another eight hours to reach Washington D.C., meaning Saum planned to drive for 16 hours straight. According to federal regulations, commercial bus drivers are not allowed to drive for more than 11 hours at a time.
• The lawsuit describes Saum's driving as "crazed," pointing out that he had consumed multiple high energy drinks before picking up the Kentucky group. It also alleges that Saum's excessive speed frightened students and their parents throughout the short time they were on board the bus. "Preliminary estimates have Saum speeding at upwards of 68 miles per hour on a winding, hilly country road before losing control of the bus and crashing it," the lawsuit says. "Teachers and parents repeatedly told Saum to slow down. People on board the bus and following it called 911 to report Saum's reckless rate of speed."
• Finally, the lawsuit accuses Saum of being uncompassionate and unhelpful following the accident. "After crashing the bus, Saum did nothing to help," the lawsuit says. "He casually stood by, smoking cigarettes while trying to joke with rescue personnel while students, teachers and parents were pulled from the wreckage."
In addition to the lawsuit, the accident is still under investigation by Kentucky State Police, who expect to have toxicology reports on Saum within a few weeks.
The car accident lawyers at Aaron Sachs & Associates, P.C. represent injury victims in Kansas City and throughout the surrounding areas, including Lee's Summit, Independence, Liberty, Blue Springs and Greenwood. To schedule an appointment for a free initial consultation, call 1-888-777-AUTO, or visit our website.
Attorney meetings by appointment only