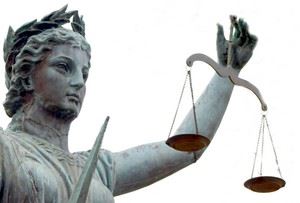 On Friday, a jury returned a not guilty verdict in the trial of 35 year-old Monica Chavez, who was charged with five counts of criminally negligent homicide and two counts of child abuse. The charges were connected to a fatal car crash caused by Chavez, who had a seizure while behind the wheel.
On February 17, 2011, police say Chavez lost control of her SUV and slammed into a Mazda sedan before hitting a median, which launched the SUV into the air. It landed on a pickup truck carrying a family of five: 34 year-old Randy Stollsteimer; his wife, 31 year-old Crystaldawn; and their three children, 12 year-old Sebastian, 9 year-old Darrian, and 7 year-old Cyrus. All five were killed in the crash. Chavez's passengers - her two children - were also injured in the wreck.
During the trial, which included three days of testimony, prosecutors argued that Chavez was negligent because she failed to follow up with a neurologist after having a seizure-like episode in 2006. At that time, Chavez was treated at a hospital, and the physician told her not to drive until she had been cleared by a neurologist. However, that recommendation wasn't appropriately transferred to Chavez's discharge papers, and Chavez instead followed up with her own primary physician, who didn't feel that the episode was actually a seizure.
"No doctor will tell you that she should not have been driving five years after something that they never called a seizure," Chavez's attorney, Megan Downing, said in court. "She was told she was fine and that's why she was in the car that day."
Then, in 2010, Chavez reportedly had another seizure-like episode, but she did not seek treatment. Downing said both Chavez and her husband believed that episode was connected to heat stroke.
The trial earned increased interest after Secretary of Commerce John Bryson was found unconscious in his vehicle on June 9 after reportedly suffering a seizure while driving. According to the Los Angeles County Sheriff's Department, Bryson rear ended a vehicle at a railroad crossing, spoke with the occupants of the vehicle, and then drove away, hitting the vehicle again as he left. Then, Bryson struck another vehicle about five minutes later. He has not been formally charged, and no one was seriously injured. Three days later, Bryson announced that he was taking a medical leave of absence.