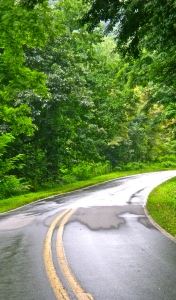 Our Springfield auto accident lawyers have seen many cases of people injured or killed as a result of another driver's negligence. Single vehicle accidents, on the other hand, are normally caused by one driver's error - and they can be just as deadly as collisions involving multiple vehicles. A one car accident claimed the life of a Ozark man on February 25. The Missouri Highway Patrol reports that 23 year-old Jordan Jones was traveling west on Riverdale Road near Ozark when he lost control of his vehicle. His 1992 Honda Accord subsequently left the roadway and collided with a parked vehicle.
The force of the collision caused the Accord to flip over, ejecting Jones, who was not wearing a seat belt. He was pronounced dead at the scene, according to the Highway Patrol's crash report.
State Trooper Ivy Warren cites speed as the main causal factor in the collision: the Accord was traveling so fast that Jones was not able to regain control of the car. Indeed, speeding is a very common cause of single vehicle accidents. In 2010, 39.5% of fatal Missouri accidents were speed-related, according to the 2010 Missouri Traffic Safety Compendium. Of these fatal speed-related accidents, 58.3% involved a vehicle colliding with a fixed object. In this case, since the vehicle was parked, it is considered a fixed object.
The faster you're driving, the less time you have to react if something unexpected happens. Speeding is even more dangerous under special circumstances: when you're driving at night, for example, or navigating sharp curves, or traveling on a road in disrepair. If you're driving too fast in these situations, it's even more likely that you'll lose control of your vehicle - and that you won't be able to regain control in time to avoid a crash. After that initial loss of control, drivers frequently respond by overcorrecting, or jerking the wheel sharply, which can result in skidding, spinning, running off the road, overturning, and/or colliding with a tree, a utility pole, or another fixed object.
In addition to speeding, there are several other common causes of single vehicle accidents, including the following:
• Driver distraction, such as texting or fiddling with electronic devices
• Driver fatigue
• Driver intoxication due to alcohol or drug use
• Equipment failure, such as brake failure
• Poorly maintained vehicle, such as driving with bald tires
• Poor road conditions or poorly maintained roads
According to Smartmotorist.com, most worldwide car accidents are completely preventable. A staggering 95% of motor vehicle accidents involve some degree of driver behavior combined with other factors. Although accident victims will frequently blame road conditions or other drivers, a sizable percentage are caused by excessive speed or other unsafe driving behaviors.