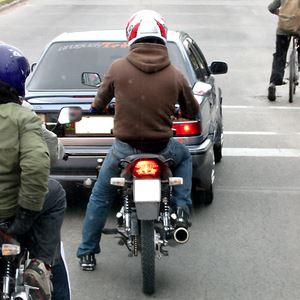 It's a beautiful day in Kansas City and throughout Missouri - we've been blessed with unseasonably warm temperatures in recent weeks. Normally, motorists don't expect to see motorcyclists on the road at this time of year, but riders are getting out on the road to take advantage of the weather. Our Kansas City auto accident attorneys feel that a reminder about motorcycle safety is always a good thing. In reality, motorcycles are a primary mode of transportation for many Missourians, and it's essential that all motorists remember to share the road - no matter what kind of vehicle you drive.
KCTV5 in Kansas City is reporting two fatal motorcycle accidents that happened this week: one in far-away Honolulu, Hawaii; and one right here in Missouri, in nearby Cass County.
Wife dead, husband critical in honeymoon tragedy
Yesterday, a Japanese couple visiting Honolulu on their honeymoon was involved in a serious motorcycle accident. Authorities report that neither the husband nor the wife was wearing a helmet when the husband lost control of the motorcycle and struck a guardrail. Both riders were thrown from the bike. They were taken to a local hospital by paramedics, where the wife died as a result of her injuries, and where the the husband still remains, in critical condition.
2 riding on motorcycle killed in head-on crash
This accident also happened Wednesday - but much closer to home. 32 year-old Charles Kagarice and 26 year-old Staci Cooper were riding east on Highway 2 (just east of Harrisonville, MO) when Kagarice tried to pass a truck at the top of a hill and struck an oncoming SUV head-on. Both riders were thrown from the motorcycle, which subsequently struck the truck that Kagarice was passing when the collision occurred. The SUV went off the road, striking a fence and then a utility pole. The couple was killed, and the SUV driver is currently hospitalized in critical condition.
Avoiding a motorcycle accident in Kansas City
These accidents demonstrate the potentially lethal consequences of a single mistake while driving a motorcycle. For this reason, it's essential for all riders to take every protective measure available. In Missouri, it's illegal to ride without a helmet, but some riders still take the risk. Don't: helmets approved by the Department of Transportation can make the difference between life and death. Additionally, safety research has demonstrated that wearing protective gear (boots, gloves, etc) can prevent or minimize accident injuries by 30% or more, along with making riders more visible to surrounding traffic. Similarly, if you're wearing shorts or sandals while riding a motorcycle, and you're involved in a crash, you can expect to suffer more severe "road rash" (scrapes and burns) - and that's the best case scenario.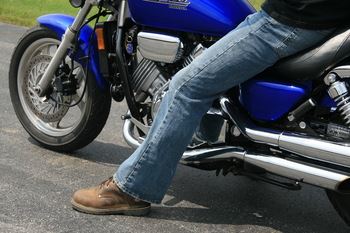 It's a fact that motorcycle accidents result in serious injuries and fatalities more often than not, simply because there's nothing to protect drivers and passengers from impact. In 2009, the National Highway Traffic Safety Administration reported that motorcyclists were 25 times more likely to die in a crash than closed-vehicle occupants (like passenger cars and trucks), per vehicle mile traveled). For motorcyclists, the fatality rate per registered vehicle was 6 times that of closed-vehicle occupants.
If you ride a motorcycle for transportation or for leisure (and especially if you don't ride on a daily or weekly basis), it's important to refresh your knowledge periodically, and to learn from others. Be proactive: keep your skill level up and remember just how vulnerable you are on your bike. Here are a few simple things you can do to ensure you're prepared for the unexpected:
• Set up cones or other markers, and use an obstacle course to test yourself.
• Practice braking. When a motorcycle crash is caused by its driver's error, the accident normally involves braking maneuvers: make sure you know how to handle an unexpected obstacle that would require you to brake and/or swerve suddenly.
• Consider a motorcycle rider refresher course.
• Subscribe to a motorcycle safety blog. There are several that are easily accessible: just try Google. You can also visit the Motorcycle Safety Foundation's web site.
• Read the Missouri Motorcycle Operator's Manuel again.
• Test yourself on that knowledge. If you think you're completely up to speed, try this quiz.
These small steps could make a very big difference. Taking extra time to refresh your knowledge and sharpen your riding skills just might save your life. One thing is certain: these measures will definitely improve your riding, and thereby reduce your chances of being involved in a motorcycle accident.
Attorney meetings by appointment only