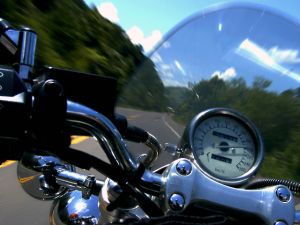 This evening, an off-duty highway patrol officer was killed while riding his personal motorcycle on California's Highway 12. According to the Napa Valley Register, 38 year-old John Fanene was traveling west when his motorcycle was clipped by an eastbound pickup truck that was attempting to turn left off the highway. The driver of the pickup, 39 year-old Edward Turner, reportedly saw Fanene at the last moment and attempted to accelerate through the turn, but Fanene struck the right rear side of the pickup.
Authorities say Fanene was ejected from his motorcycle on impact and thrown nearly 200 feet. He landed in the roadway, where he was struck by another eastbound vehicle. Fanene was pronounced dead at the scene. No one else was injured. Police are investigating the accident, but drugs or alcohol are not believed to be contributing factors.
Sadly, many motorcycle accidents happen every year simply because drivers fail to see motorcyclists traveling near them. Consider the following facts:
• Motorcyclists are more vulnerable to injury than other motorists because they do not have the protection of an enclosed vehicle. The National Highway Traffic Safety Administration (NHTSA) reports that the number of motorcycle fatalities in 2010 was about 30 times the number of deaths in other types of auto accidents.
• Motorcycles are less visible than other kinds of passenger vehicles, and less stable in braking and swerving maneuvers.
• 2009 data from the Insurance Institute for Highway Safety (IIHS) indicates that 42% of fatal two-vehicle motorcycle accidents occurred when a vehicle attempted to turn left while a motorcyclist was going straight or passing the vehicle.
So, what can motorcyclists do to help make themselves more visible to other motorists? Here are a few basic tips:
• Allow extra distance between your motorcycle and other vehicles. You need space in front of your bike in case an obstacle suddenly presents itself, so it's important to create an exit route, just in case you need it.
• Don't ride in other vehicles' blind spots. Your best bet is to ride
• Slow down as you're proceeding through intersections, and be aware of what other vehicles are doing. Position your motorcycle so it's clearly visible to motorists attempting to make left turns.
• Wear brightly colored or reflective clothing - and use your lights and signals to alert other motorists to your presence, and to your intentions.
• Ultimately, it's best to ride like other drivers can't see you. If you assume a driver sees you and you're wrong, you can put yourself in harm's way. Conversely, if you assume you can't be seen, you'll be prepared for the unexpected.

Aaron Sachs & Associates, P.C. is a personal injury law firm that serves auto accident victims in Cape Girardeau, Missouri and throughout the surrounding areas, including Marble Hill, Poplar Bluff, Kennett, New Madrid, Sikeston, Ste. Genevieve and Piedmont. If you've been injured in a Missouri crash, contact us to find out if we can help: our attorneys offer a free initial consultation to discuss your case and answer your questions. To schedule an appointment, call us toll-free at 1-888-777-AUTO, or visit our website.
Attorney meetings by appointment only