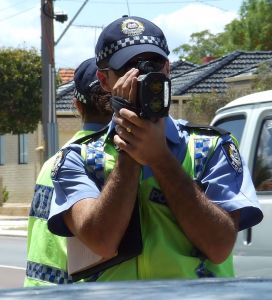 If you're planning on taking one last summer road trip over the upcoming Labor Day holiday, you'll probably notice an increased number of state troopers on Missouri's highways. That's because the Highway Patrol will conduct Operation C.A.R.E. along with a 20-mile Trooper operation over Labor Day weekend. These initiatives are designed to help prevent Missouri auto accidents over the busy holiday travel period.

What is Operation C.A.R.E.?
Operation C.A.R.E. (Combined Accident Reduction Effort) is a national enforcement operation that aims to reduce car accidents through aggressive enforcement of traffic laws. C.A.R.E. events usually occur around holiday weekends, or any time more vehicles than usual are expected on the road. These operations specifically target motorists who are speeding dangerously or driving aggressively.
The goal of the operation is to ticket offenders and deter reckless roadway conduct: with increased Highway Patrol presence and enforcement, drivers are less likely to commit traffic violations that can cause serious accidents. Often, seeing a vehicle pulled over will prompt other drivers to slow down and drive more cautiously.
During Operation C.A.R.E., all available law enforcement officers patrol targeted areas of Missouri roadways. The 20-Mile Trooper operation enhances this effort by placing troopers along 20 mile sections of major roads and highways. In addition to making traffic stops, troopers are also available to help stranded motorists or assist with other driver or vehicle emergencies.
In 2011, there were a total of 952 Missouri car accidents over the Labor Day holiday weekend: 13 people were killed and 443 others were injured in these crashes. In addition, troopers arrested 175 people for driving while intoxicated.

How can drivers help keep Missouri roadways safe over Labor Day?
The Highway Patrol will be doing its part to keep this year's Labor Day traffic accident numbers down. This year's counting period begins at 6:00 p.m. on Friday, August 31 and ends at 11:59 p.m. on Monday, September 3.
To keep our state's roadways safe and accident free, Missouri drivers must do their part as well. Don't wait until you see those flashing red and blue lights: make safety your top priority every single time you get behind the wheel. We encourage you to watch your speed, eliminate the distractions, and avoid drinking if you plan to drive. And remember that state law requires you to "move over" for police and emergency responders: be sure to give MSHP traffic stops plenty of room.
"The Patrol encourages everyone to make safety a part of their plans for the Labor Day holiday," said Colonel Ronald Replogle, superintendent of the Missouri Highway Patrol, in a recent news release. "Enjoy the last big weekend of summer, but please don't become a statistic. Remember to buckle up in your vehicle and wear a life jacket when on or near water. If your celebration includes alcohol, designate someone else to drive, whether you are in your boat or your car."


At Aaron Sachs & Associates, P.C., our car accident lawyers represent injury victims in Kansas City and throughout the surrounding areas, including Liberty, Lee's Summit, Independence, Blue Springs, Greenwood, and Excelsior Springs. To schedule an appointment for a free initial consultation, please call our office toll-free at 1-888-777-AUTO, or

visit our website

.



Attorney meetings by appointment only