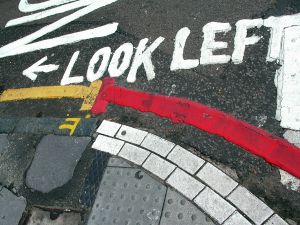 Though it remains an epidemic problem, most people know that distracted driving is a serious threat to roadway safety. After all, distracted driving car accidents - and the legal penalties associated with such accidents - often receive a great deal of media attention. However, distraction is proving to increase injury risks for another kind of traveler: the pedestrian. It may seem hard to believe, but a growing number of pedestrians have suffered injuries caused by "distracted walking." Within the last seven years, reports of such injuries have quadrupled, with pedestrians reportedly walking off train platforms, falling off piers, and strolling into oncoming traffic:
Evidence of the distracted walking problem can be found on busy city streets throughout the country. More and more people are regularly using electronic devices while walking - which means that many pedestrians are focused on these devices instead of being attentive to what's going on around them. When crossing the street in heavy traffic, such inattention can be deadly.
Since 2010, pedestrian fatalities have increased by 4.2% and injuries by 19%, according to the National Highway Traffic Safety Administration (NHTSA). It's impossible to determine exactly how much of that increase is related to distraction, because law enforcement agencies often don't collect that kind of information from pedestrians. However, data submitted to the Consumer Product Safety Commission reveals that emergency rooms have treated at least 1,152 people for distracted walking injuries within the last year. In fact, it's likely that the actual number is considerably higher: here again, patients may fail to mention that distraction played a role in an injury, and even if they do, emergency room professionals don't always include that detail in medical reports.
Because distracted walking has become such a prevalent issue, several states are attempting to pass laws that prohibit the use of electronic devices while walking. For example, the Utah Transit Authority tried to implement on ordinance banning pedestrians from using "cellphones, headphones or other distracting electronic devices while crossing the tracks of its light rail system on the streets of Salt Lake City." If caught violating this ordinance, offenders faced a $50 fine. However, the ordinance failed to pass the Utah Legislature. Other states (such as Arkansas, Illinois, and New York) have drafted distracted walking bills, but none have passed into law.