Bolivar Missouri car accident lawyers join Missouri State Highway Patrol (MSHP) in reminding drivers to stay alert during harvest time. National Farm Safety and Health Week is September 18 -24 this year. Part of this week is about remaining alert while driving, particularly on Missouri's rural highways.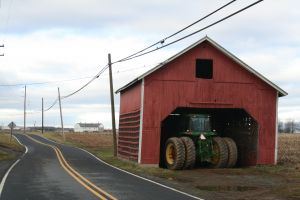 National Farm Safety and Health Week is an annual promotion designed to celebrate the hard work, diligence and sacrifices of our nation's farmers and ranchers. And it is a great time to promote traffic safety. Harvest week means more trucks and heavier farm machinery will be on the road and we should all be prepared to share the roads. Drivers and farmers alike should be extra vigilant for potential car accidents.

Missouri Car Accidents Involving Farm Equipment
Last year, in 2010, there were 157 car accidents involving Missouri farm equipment. Of those one driver was killed and 23 were injured, while 3 farm tractor passengers were injured. Many car accidents during harvest week can be avoided. The following safety guidelines should be followed to reduce your risk of being in a car accident on a rural road during harvest time.
Driver Safe Travel Recommendations



Stay alert for slow moving farm equipment.


When you come upon a tractor or other farm machinery, slow down and be patient. Many car accidents occur when a car crosses into oncoming traffic to pass slow moving equipment.


Make sure you have a clear view of oncoming lanes before you pass.


Make sure the tractor or farm machinery is not turning left in front of you. Like a large truck, they must pull to the right to make a wide left turn. Pay attention to hand and vehicle signals before you pass.


Be prepared at all times for equipment entering the road.


Remember that it is harder to see at dusk and dawn and farmers are working during both time periods.