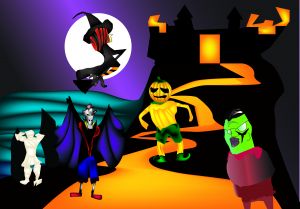 From hay-rides to haunted houses and everything in between, Halloween is an exciting time in Jackson County and in surrounding Missouri. For young and old alike, dressing up and enjoying the festivities is a Missouri tradition. However, car accidents can mar a perfect end to summer and ruin this great American holiday. So the Kansas City Missouri car accident lawyers want to remind you to be safe and to drive safely.
According to the Center for Disease Control the number of pedestrian accidents around Halloween increases by four times. Everybody gets caught up in running to the next house and forgets to watch for cars. So it is on you the driver to be especially cautious on and around Halloween.
Safe Halloween Driving Tips
Many costumes are dark and some of the Trick-or-Treaters are quite small and easy to miss. Just be prepared for anything. Slow down and cover your brake pedal when driving through or near places where monsters and ghouls might be walking.
Remember if you are following your own little super-heroes up and down the block while they work for treats to not only keep an eye on them but to look out for other cars and traffic problems. This is an especially dangerous time for the cell phone, so put it down and keep a look-out for potential accident situations.
Drive below the posted speed limits. Pull off the road at a safe spot to let your space aliens out of the car and make sure they are wearing reflective tape or carrying a glow stick or a flashlight. Remind them to look both ways and never to get into a stranger's car or go into someone's house.
Do not pass a car stopped on the street unless you can see why they are stopped. This time of year they have probably stopped to allow Dracula and Frankenstein to cross the road. You don't want to run over one of those fellows. If you have to leave your car, turn on your hazard lights to warn other drivers.
Keep a sharp eye out for Power Rangers and fairy princesses and all the other creatures of Halloween night, they might just jump out in front of your car and scare you to death. And if you happen to see a ghost or vampire jump out at you, don't panic. Keep both hands firmly on the steering wheel and apply solid pressure to your brake to stop.
If the creature of the night happens to be behind the wheel, make sure their vision is not blocked by a mask or other costume paraphernalia. Keep pitch forks, wings, scythes, and hats out of the driver's line of sight. Only the sober witches, pirates, and ghosts get to drive so arrange your group and make your festivity plans accordingly.
Halloween Activities
For some of the best ways to celebrate Halloween check out KC Kids Fun.com and Kansas City About.com for activities and fun alternatives to traditional Trick-or-Treating.
It is fun to have a thrill on Halloween but not a true fright such as a car or pedestrian accident. Slow down, take your time, remain alert, choose a designated driver and have a great car accident free Halloween.
Visit Kansas City Missouri car accident lawyers for more information about car and pedestrian accidents.

Attorney meetings by appointment only