Although Missouri law requires all drivers to have insurance, there are many motorists on the road without it, hoping they don't get caught. If you are injured in an accident with one of them, you might have a difficult and complicated time trying to get the compensation you deserve.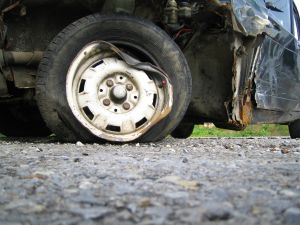 People can be uninsured for a wide variety of reasons: Perhaps they cannot afford insurance, or they have been dropped by their insurance and no-one else will take them on. They might well be illegal aliens without a legal driver's license, and there are many other reasons as well. Strange as it may seem, some people simply resent any government rules and regulations and go to great lengths to flout the law. Unfortunately, Joplin Uninsured Motorist Accident Attorneys see these situations all the time.
If you are injured in a Joplin auto accident with an uninsured motorist, how can you collect damages for your injuries and the damage to your vehicle? You probably have many questions, such as:
• Who will pay my medical bills?
• How will I be able to afford replacing or fixing my vehicle?
• How can I be compensated if I cannot work?
• What if I, or a passenger in my car, suffer a long term disability?
• Do I have to sue the person who was at fault?
• How much will my uninsured motorist insurance cover and what should I do if the expenses are more than that?
Joplin Auto Accident Lawyers have a few different recommendations for this type of situation...
1. If you have uninsured motorist coverage yourself, make a claim to your own insurance company. This coverage is required by law in Missouri, $25,000 for bodily injury per person as well as $50,000 for bodily injury per accident. If you are insured--then you have this coverage. Let your insurance company handle any claim for reimbursement from the uninsured driver who was at fault.
2. Although unlikely, it does happen that an uninsured motorist is driving a work vehicle. If this is the case in your auto accident, another option available to you is to pursue a claim for damages against his/her employer or the owner of the vehicle.
3. If your injuries are extensive and the treatment is ongoing, your uninsured motorist coverage might not be able to cover the amount of money you need. At this point it is worth it to consider a lawsuit against the uninsured motorist for additional damages.
4. It's possible that the accident victim may be allowed to "stack" insurance policies, meaning to be able to use the uninsured motorist coverage on other cars in the same household.
Regardless of the circumstances of your uninsured motorist accident, you are always better off getting a qualified legal opinion about your case. Because the uninsured driver is in violation of the law, there may be criminal penalties filed, and these cases are frequently more complicated than an average auto accident claim.
A free consultation with Joplin Uninsured Motorist Accident Lawyers can help answer all your questions and set your mind at ease that there are legal remedies to be pursued to guarantee your rights.
Attorney meetings by appointment only