Car accidents rattle everyone. They happen so quickly and are so unexpected: it is hard to know what to do. But since they do happen every day in Liberty, Missouri, you should be prepared, just in case one happens to you. Below are answers to some frequently asked questions about car accidents: knowing what to do under these circumstances can help you to remain calm and to ensure your rights are protected.
What should I do if I am in a car accident?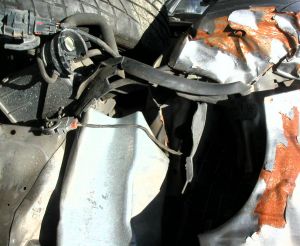 First, determine if you or anyone else in your car is hurt--and if so, how badly. If you are not badly hurt, you can check on people in the other vehicle(s) involved. Call 911 or the Liberty Police Department, even if the damages seem minor. Make a note of license plate numbers and then--if the vehicle(s) can be moved--pull to the side of the road or the closest place out of traffic.
Do not talk about who is at fault. Resist the temptation to share your side of the story with other drivers or witnesses. Calling the police creates a record of the accident, and law enforcement officials are trained to reconstruct the accident to determine fault.
Should I talk to anyone while I am waiting for the police?
If you are able, talk to witnesses. Ask them what they saw, and write this information down (along with their names and phone numbers). Put a small notebook in your glove box or center console so you can take notes if the need ever arises.
You will need the following information:



Names of the other drivers


Contact information for other drivers: address and phone numbers


Driver's license numbers and state


Insurance company and policy numbers


License plate numbers and state


Vehicle descriptions including color, make, model, VIN number and year


Registered owner's name and address


Names and contact information for occupants in each vehicle


Witness names and their contact information


Date, time and location of the accident


Any contributing factors (i.e. road conditions, traffic lights, weather, or road construction, etc)


Police officer's name, badge number, and department


Normally, the police officer asks each driver to fill out a form and then provides copies to everyone involved. They will also give you a case number. But you should obtain this information for yourself as well. Taking your own notes can be especially useful in keeping track of witness information--for example, you can write down the contact information for a witness who doesn't want to wait for police to arrive.
If I am in a car accident, do I have to stop?
Yes. You should always stop, even if you think the accident was not your fault. Leaving the scene of an accident is illegal in Missouri. In rare cases, the police department may inform you that you can leave and file a report within 30 days of the accident. Always report the accident and let local authorities advise you.
Is there anything else I can do?
Taking notes and keeping a good record of everything that happened before, during, and after the accident can greatly enhance your chances of recovering money in a personal injury lawsuit. Take note of anything that might seem relevant, such as a driver admitting fault or smelling of alcohol or behaving erratically. Keep track of tow companies and/or ambulance companies, along with any road construction, street crews, etc. Keep all of your paperwork from everyone.
It is imperative that you go to the hospital immediately if you are injured, and keep all of that information. Take pictures if you can. And call a lawyer as soon as possible. Do not admit fault to the other driver or to their insurance company. Contact a lawyer before you sign any insurance paperwork.
Some insurance companies want to pay out as soon as possible and for as little as possible. Call the Liberty, Missouri car accident lawyers for a free consultation before you make any decisions or settlements.

Attorney meetings by appointment only