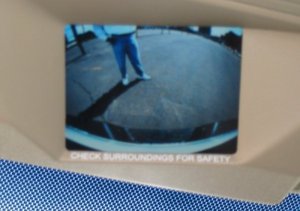 Our Springfield personal injury lawyers know that backover accidents involving young children are all too common, both here in Missouri and throughout the U.S. Federal data indicates that, on average, backover accidents cause 292 deaths and 18,000 injuries each year. One tool that could dramatically reduce the number of backover accidents is the installation of backup cameras in all new vehicles: experts say these devices would prevent 95 deaths and more than 7,000 injuries annually. Unfortunately, despite this research, too many vehicles still lack this potentially life-saving technology.
Recently, media outlets announced that the U.S. Department of Transportation is being sued by a group of consumer advocates for delaying the passage of a federal rule requiring backup cameras in new vehicles to improve rear visibility. The rule, which was signed into law in 2008, included a deadline of three years for the DOT. Now, in 2013, the DOT says it will complete the standards outlined in the rule by 2015, citing the need for additional research. However, the consumer advocates behind the lawsuit say that's simply not good enough. "When Congress ordered this rule issued in three years, they meant three years, not seven," said Scott Michelman, attorney for the plaintiffs. "It's time for a court to step in and make the Transportation Department issue the rule. No administration is above the law."
Facts about backover accidents from KidsandCars.org:
• Every week, at least 50 children in the U.S. become the victims of backover accidents. Research indicates that 48 of these children are treated in emergency rooms for backover-related injuries, while two children suffer fatal injuries.
• One year-old children are the most likely to suffer injuries in a backover accident.
• More than 60% of backover accidents involve a large vehicle like a truck, van or sports utility vehicle, and in more than 70% of these accidents, a parent or close relative is behind the wheel of the striking vehicle.
Avoiding backover accidents: Safety tips for parents, family members and caregivers:
• Be aware of the size of your "blind zone" - i.e., the area behind your vehicle that you can't see while sitting in the driver's seat. According to KidsandCars.org, a driver who is five-feet-one-inch tall and operates a pickup truck can have a blind zone that is around eight feet wide and 50 feet long.
• Walk in a circle around your vehicle before reversing out of a driveway or parking spot. If there are children in the area, know exactly where they are before you move your vehicle.
• Talk with children about the dangers associated with playing around vehicles. Since young children often act impulsively, it's imperative they are taught that parked vehicles may move without warning and that drivers may not always be able to see them.