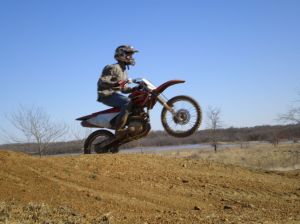 Although motorcycle accidents are frequently in the news, less is reported about a similar but equally dangerous sport--dirt bike riding. Dirt bikes handle rough terrain, pot holes, jumps, and other obstacles that would destroy a motorcycle, but this does not mean their riders are in less danger. Joplin motorcycle accident lawyers have repeatedly seen that dirt bike accidents can have serious and sometimes even fatal consequences.
This past Sunday, Oct. 2, two local teens were dirt-biking on private property (and hopefully wearing the appropriate dirt bike helmets) about one half-mile east of Neosho in Newton County. Although we don't have any of the specifics, apparently they collided head-on. As with motorcycle accidents, almost any collision makes it impossible for the rider to remain seated on their vehicle and severe injuries can result when they are forcibly ejected. Both Jimmy D. Jackson, 19, of Joplin, and Matthew G. Bridges, 19 of Neosho had to be taken by ambulance to Joplin's Freeman Hospital West.
Dirt bikes have many of the same dangers of motorcycles, and some that are unique to their construction and the ways people use them.
Dangers of Dirt Bikes to Joplin MO Riders
• Dirt bikes are built for speed, but are much lighter weight than motorcycles and can be difficult to handle in certain driving environments.
• The slightest error or miscalculation by a driver can instantly lead to a catastrophe.
• Riders are unregulated; there are no traffic laws or right-of-way rules governing situations where more than one dirt bike is in an area.
• Dirt bike riders frequently push the limits of their bikes in close proximity to others who are moving with just as much speed.
• Dirt bike riders are completely exposed, other than their helmet, so any crash leads to forceful impact between the rider's body and the earth, a tree, etc.
• Many times the bike lands on the driver after an accident, with the engine causing serious burns.
The most common injuries resulting from dirt bike accidents are broken bones, and head injuries. Unfortunately, even the most expensive helmet cannot always protect a rider from catastrophic injury, especially if the accident involves flying many feet through the air and hitting the earth or any other object with extreme force.
According to a report done by the National Electronic Injury Surveillance System-All Injury Program (NEISS-AIP) dirt bikes are increasing in popularity in the United States. Approximately 300,000 off-road motorcycles were sold in the United States during 2003, nearly twice the sales figure for 1999. The report indicated that an estimated 23,800 off-road teen motorcyclists are treated for injuries in emergency rooms each year.
Recreational Accidents
If someone is injured participating in this dangerous sport, are they entitled to any damages? It would depend on various factors, the main one being whether or not negligence can be proved on the part of the rider who caused the accident. We advise consulting a Joplin dirt bike accident lawyer at once after a dirt bike injury. Call us today at 1-888-777-Auto (2886) to set up a no-cost, no obligation, initial consultation with one of our injury lawyers to discuss your case.
Attorney meetings by appointment only