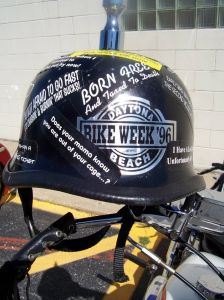 If you love the feel of the open road and feel totally alive when you're on your motorcycle (or even when you're just thinking about riding your bike), it is in your best interest to know how to keep safe on Missouri roadways. Taking just a moment to take a precaution, anticipate a hazard, or, simply, to put on your helmet and slow down may save a life, yours.

All motorcyclists need to be aware, but those driving high performance bikes need a stronger reminder. Supersport motorcycle accidents involve deaths four times the rate of regular motorcycles in accidents.
While you can control your own actions, you need to be able to anticipate and react to the actions of other drivers (car, truck, bus, and bicycle), pedestrians, and Missouri roadway or weather conditions as well. While it doesn't appear that motorcyclists are involved in more accidents than other vehicles, it is clear that motorcycle accidents result in more serious injuries, including fatal injuries.
.
Control Your Own Actions While Riding Your Motorcycle
A moment of poor judgment or distraction could change your life or end your life, and change the lives of others as well. To be safe,

• Always wear a helmet
• Have your passenger wear a helmet
• Keep your bike well maintained and follow all safety instructions
• Practice riding with a passenger in a parking lot before hitting the open road
• Follow all traffic laws
• Never drink and drive. Never use intoxicating drugs and drive.
• Don't ride when you're tired. Take breaks often.
• Don't ride when you're angry or otherwise upset
• Do not use a cell phone or text while you're driving.
• Be aware of your surroundings. Constantly scan. Maintain a safe distance from the vehicle in front of you.
• Stay out of drivers' blind spots
• Do not lane split or lane share with a car or truck
• Pull over if the weather makes riding your bike unsafe.
• Be aware of cars making left turns in front of you.
• Do not attempt to pass a car which is making a left turn.
• Do not speed.
• Be aware of hazardous road conditions such as icy or wet roads which make the surface slippery, pot holes, dead animals, and other hazards on the roadway.
How Most Motorcycle Accidents Occur on Missouri Roadways
• Head-On Crashes with Another Vehicle - cars hit the front of motorcycle most of the time; accidents, involving cars hitting the back of a motorcycle, are rare. Head-on car or truck - motorcycle crashes are often fatal.
• Cars Making Left-Hand Turns - for example, you try to pass or are passing a car that is making a left hand turn; or, a car turns left in front of you without ample space. Even if the car driver is found to be negligent, you may be already dead or seriously injured.
• Lane Splitting - occurs when the motorcycle rides up the traffic line between two lanes of cars when cars are stopped or slow moving.
• Drunk Driving causes impairment
• Speeding slows your reaction time
• Road Hazards such as icy or wet roads which make the surface slippery, pot holes, dead animals, and other hazards on the roadway.

Where to Get Help if You are Injured in Missouri Motorcycle Crash
Call our Columbia area, Missouri motorcycle wreck lawyers now for a free confidential, no obligation consultation now if you or your loved one has been injured in a motorcycle accident on Missouri highways. We help people just like you across the entire state of Missouri. You can reach us toll free at (888) 287-1046. We are available 24/7/365 for your convenience. Call now.
Attorney meetings by appointment only