70-Mile Ride to Help Reduce Risks of Motorcycle Accidents in Southeast Missouri
Motorcycle riders from the Bootheel and all over Southeast Missouri headed west recently in the hopes of raising awareness and decreasing the number of motorcycle accidents in in Southeast Missouri and elsewhere in the state this summer. More than 500 riders from all over Missouri came out for this year's event. A 70-mile ride, beginning and ending in Springfield, took riders through the towns of Nixa, Willard and Republic to help raise awareness of motorcyclists on our roadways.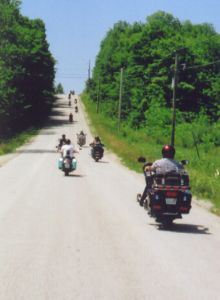 Our Cape Giradeau motorcycle accident lawyers urge motorists to consider everyone traveling on our roadways as motorcyclists often get overlooked by other motorists. The riding event is held every year in the spring as that is the time when motorist can expect to begin to see more motorcycles on the road. Motorcycle accidents with cars typically result in serious or fatal injuries to the rider. More than half the time the driver of the passenger vehicle is at fault.
The theme of this year's ride was "Can You See Me Now?" The riders organized and titled this event after there were more than 2,000 accidents involving motorcyclists in Missouri in 2010. Nearly 100 of those accidents were deadly, according to American Motorcyclist Association (AMA).
A four-year, $3 million study being sponsored by the Federal Highway Administration (FHWA), aims to look deeper into the causes of motorcycle crashes. Oklahoma State University, through the Oklahoma Transportation Center in Stillwater, Oklahoma, is conducting the survey. It is the first major study into the main causes of motorcycle accidents since 1981, according to BikeWorld.
The Motorcycle Safety Foundation offers tips that every driver know about motorcycles:
-Motorcyclists, often times, seem to be traveling faster than they actually are. This can be credited to the small size of their vehicle. Truth is, they're probably not. Don't assume that all motorcyclists are speed demons.
-Motorcyclists often slow down by downshifting instead of hitting the brakes. Downshifting does not activate a brake light. For this reason, drivers should allow more distance between them and a motorcycle when following behind in traffic.
-Be aware of motorcyclists in your blind spots. Because of their small size, they can often get lost in your line of vision. Be sure to be extra cautious of motorcyclists when changing lanes and at intersections.
-Because of their small size, motorcycles often appear to be farther away than they actually are. This can also make it difficult to judge their speed. Always assume that a motorcycle is closer than it appears to be.
-When a motorcycle is in motion, don't think of it as a motorcycle, view it as a person.
-The stopping distance is just about the same for motorcycles as it is for cars. Difference is, they can't stop on slippery roads as easily, as sliding is common for them. Follow at a safe distance as they can't stop as easily as you may be able to.
-While motorcycles have excellent maneuvering abilities, they often adjust their position in lanes to avoid debris and wind from passing vehicles. Understand that these drivers are zigzagging for a purpose and not to be reckless.
-Remember that turn signals on motorcycles are not self-canceling like those on most motor vehicles. Sometimes they may forget to turn them off. Make sure their signal is for real when traveling near these riders.
-Don't ignore them -- and don't crowd them. Practice extra caution, especially at intersections and when changing lanes.
If you or a loved one has been involved in a Missouri motorcycle accident, call the Jackson Injury Lawyers at Aaron Sachs & Associates for a free initial consultation to discuss your rights. Call (573) 334-7959. Attorney meetings by appointment only.
Attorney meetings by appointment only
Posted By
Aaron Sachs & Associates, P. C.
Categories: